Are you in love and dreaming of a wedding proposal, or could this be the time to plan a wedding ceremony. Getting hitched is a special event with lifetime memories. It's a good time to get the advise you need to handle all the issues which are a part of this very special event? Before you consider any of the options seek free advise and make it work with your budget— we like to make your dreams come true and arrive on the Las Vegas Strip with your very own Private Jet with your guests, yes you can get married and fly Private and save a bundle. Make it a luxury wedding and have your guests pay their share to experience your lifetime events. Private Plane images will last forever.
Hundreds of visitors are moving forward with their Wedding Proposals and plan to take advantage of this very special offer by the Las Vegas Wedding Connection- Arriving on the Vegas Strip with your very own Private Jet Charter is a once in a lifetime experience. It comes with everlasting memories from this very special occasion at the Bellagio Fountains. Bring your family and your Wedding Guests. The amazing Challenger has seating for up to 19 guests. Make it yours, we help you plan your entire Wedding Journey by Private Plane to Vegas. Take a moment to experience, download and ask us for the Support of our in-house Wedding Consultant.
Your Private Proposal on the Las Vegas Strip is a little sweeter when you and your Wedding Party arrive at one the Vegas Strip Airports with your own Private Jet. Love is in the air when you depart from your home town with a very special departure reception. The Las Vegas Wedding Connection and Vegas Express Jet like to extend a very special $1000- wedding gift to you. Our way of rewarding when you bundle your Private Plane Charter Jet with a Wedding Program, coordinated for your by the Las Vegas Wedding Connection.
Please accept our very special invitation to plan your Las Vegas Strip Wedding at the Bellagio Fountains Deluxe Private Proposal or Marry Me with the Private Jet Journey and receive a Gift Certificate valued up to $1,000. The Las Vegas Wedding Connection and Vegas Express Invite you to take advantage of our gift to you to celebrate the most romantic proposal on the Las Vegas Strip. Visit the Las Vegas Wedding connection.
No need to worry about TSA inspections, long lines and early check-in requirements. Travel with your family, friends and wedding guests on Board your own private Jet. No need to worry about lost bags, your wedding gown will be with you at all times. No worries, we do all the work for you. Enjoy your flight and we will provide special catering and bar services. After all this is your wedding journey!
Las Vegas is known at the World's Wedding Capital. Arriving by Private Jet is a dream. You and your guests will be arriving on a Vegas Strip Private Airport area with your limousine meeting you planeside. The ultimate setting for those photos shoots which will be yours forever.
You're only minutes from the Bellagio, Wynn, Aria or Caesars. No worries about lost bags or stopovers, arrive safe and secure at your resort within minutes. Select from hundreds of Resorts, on or off the strip at Red Rock, Henderson and Lake Las Vegas.
BELLAGIO FOUNTAINS DELUXE PRIVATE JET PROPOSAL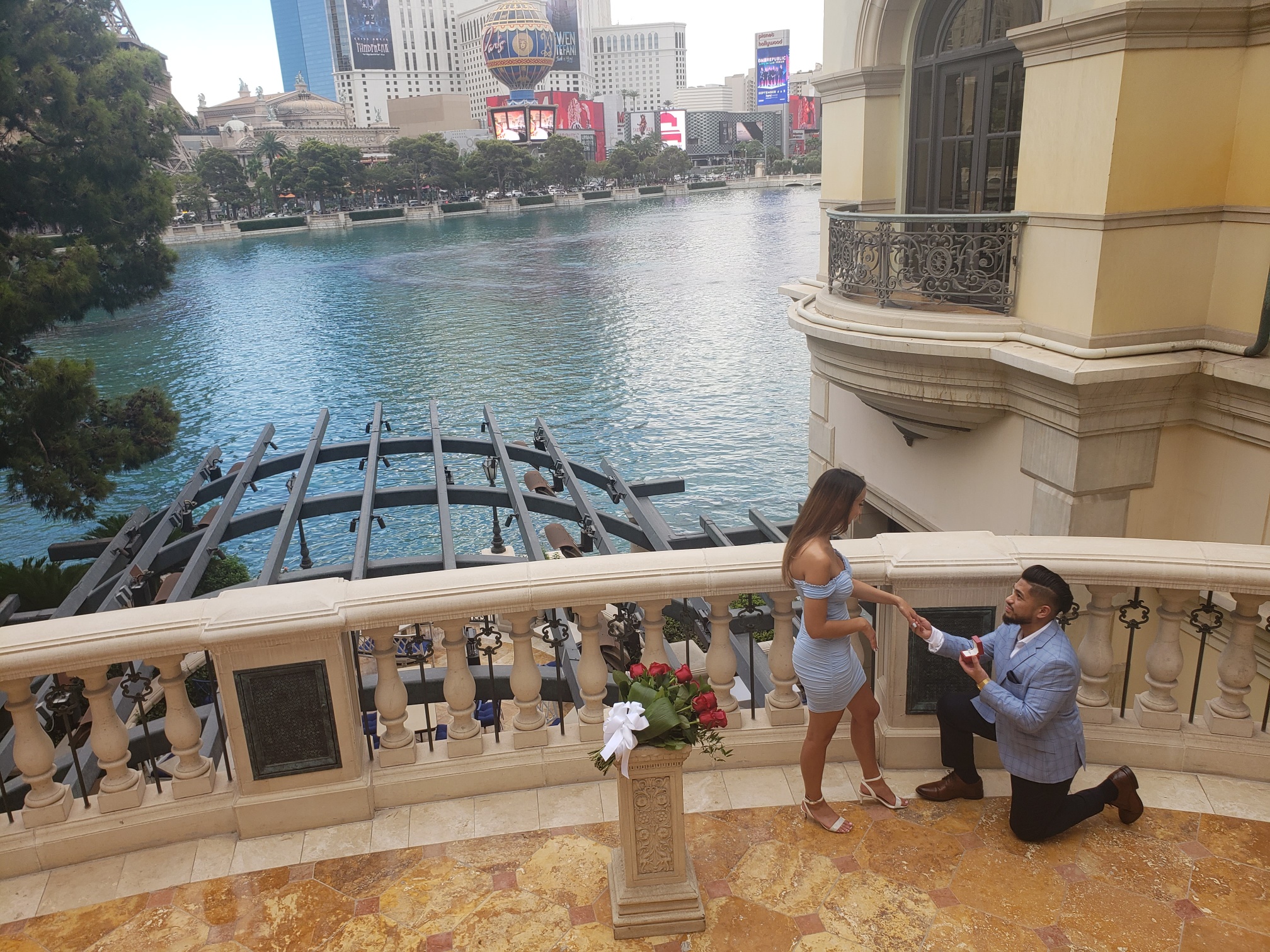 First you will be escorted to Bellagio in a luxury vehicle! We have the complete scenario to surprise your partner with this romantic proposal.
Imagine proposing to the love of your life on the private Terrazza di Sogno overlooking the iconic Bellagio Fountains .Allow Bellagio to be your celebration destination! Your package includes:
One Half Hour of Time at the private Terrazza di Sogno
Fresh Rose Petals in the Shape of a Heart for Your Proposal ( optional change with winds)
Twelve (12) Long-Stemmed Fresh Roses for Your Beloved
One Fountain Show Song to be Chosen from a List of Selections provided
Professional Photographer for Proposal
45 minutes of Photography around Bellagio
One (1) 8″ x 10″ Print
Two (2) 5″ x 7″ Prints
One Bottle of Champagne
Set of Fine Champagne Toasting Flutes
Luxury Transportation to and from your hotel. After the celebration continue to have iconic photos taken at various locations on the Las Vegas Strip! Your vehicle will whisk you away for one hour before dropping you back at your hotel! The photo tour includes all the images send electronically!
Marquee "Marry Me" Letters an additional upgrade charge
*Your $1000- certificate is good for bookings made through June 15, 2023. Other terms and conditions may apply carefully review your proposals and quotes. Offer may be withdrawn without prior notifications.
Private jet wedding proposals–pick a package, share your Private Jet
Featured Product
Contact Us
Your Private Jet Wedding and Gift Certificate. How does it work:
The $1000 certificate is yours. To ensure that you receive the full credit, take a few simple steps:
Reserve any Wedding Package with the Las Vegas Wedding Connections. The minimum purchase price of you Wedding Package should be $1000-.
Book any type of Private Jet with Vegas Express Jet with a minimum of 14 seats and you receive a $1000- Certificate which is issued at the time you pay in full for your Private Jet. This certificate will be issued on behalf of your Wedding Party to the Las Vegas Wedding Connection. As always, you benefit from the lowest Jet Charter and Rental rates exclusively offered for Wedding Parties by Vegas Express Jet.
A MINIMUM PRUCHASE OF A $1000- WEDDING CERTIFICATE IS REQUIRED TO BENEFIT FROM THIS $1000- GIFT CERTIFICATE. OFFER IS VALID FOR ALL RESERVATIONS COMPLETED ON/BEFORE JUNE 15, 2023. PLEASE VIEW THE TERMS AND CONDITIONS. OFFER MAY BE WITHDRAWN WITHOUT PRIOR NOTICE. LIMITED AVAILABILITY.
Wedding Gift Certificate for smaller parties.
Just in case, you wedding party is smaller, from 8-10 guests, you will qualify for a $500- gift certificate. Aircraft in the Category include the Phenom 300 and the Mid and Super Midsize Aircraft.
Should you travel with a very light jet, with seating from 2-5 passengers, sorry you will not qualify for a ny gift certificate—however Vegas Express will surprise you with complimentary Champagne and full bar services and FREE wifi. On your return flight from the Vegas Strip, You will be our guest for Custom Crafted Sandwiches, Cookies, Snacks and Juices from the Panera Bakery. On of our Team Members and Air Concierges will contact you to ensure that your journey home is a part of your everlasting journeys.
Private Jets at 30% Less Than Jet Cards- no memberships fees
Take advantage of the lowest Jet Prices with your wedding package. Our Team Members will be here to do all the work for you and provide you with the very best pricing for you and your guests. Don't forget to share all the available seats with you family and wedding party. Feel free to contact one of our Team Members at 702-336-7345 or ask us for a Jet Quote. Need a bigger jet, ask us for 30 seat and larger B737 aircraft with seating for up to 150 guests!
Planning your Honeymoon
Our Travel Planner travels the World and inspects Hotels and Ground Operators. For you extended visit and Honeymoon may we recommend a secluded resort in Hawaii. Maui is one of the worlds most romantic destinations. For deep sea diving we recommend a visit to the Caribbean, from Aruba to Barbados and the Bahamas. Are you "Searching" for Haute Cuisine and the Culture of Italy may we recommend that your include a visit to Venice, Florence and Rome. How about a Mediterranean cruise. No limits–we will custom craft an itinerary which will fulfill all your wishes. Please contact our Travel Team at 702-336-7345.
Meet our in-house Wedding Consultant- Ms. Joni Moss-Graham
For the last 30 years, Joni has been helping couples get married in the wedding capital of the world. her advise get somebody who can help you make the very decision for your lifetime journey. After you have searched each and every Wedding Website you may decide that the wedding should be yours and not a cookie cutter plan from a far away website. We make it your very own wedding and follow your wishes, no last minute surprises.
A 30 minute consultation call is free of charge–no risks or obligations, no need for credit cards. Keep it simple and call Joni direct at 702-236-8728 or feel free to send share a short e:mail message.
Start you journey at the moment you arrive of the Las Vegas Strip, with your very own Private Jet Charter. Or make it a trip to Paradise for your Wedding celebration in Hawaii and arrive at Maui. We love to take care of your wedding at any place in the World. Sounds great! Getting married in Las Vegas can be a unique and memorable experience, and having a team to handle all the details and make it a seamless process can make it even better. With the variety of options on the Vegas Strip and the attention to detail promised by Joni and her team.
Please take a moment to review your Charter Proposal which will detail the processing of your gift certificate and the costs for your Charter flight. Special Bonus offers such as categring, bar services and wifi are fully detailed. We recommend that you ask us for a quote which will include side-by-side rates and charter options. For Charter and Honeymoon services please contact our airport desk at 702-336-7345 or e:mail us.
Find us here: #LasVegasWeddingConnection#LasVegasWedding#Bellagio#BellagioFountains#VegasWeddingCapital
#wynn#Aria#Caesars#RedRock#WeddingCertificate#$1000WeddingCertificate#TerrazzodiSogmo#Gulfstream#PhenomJet#Honeymoon#Hawaii#Caribbean#Venice#Florence#Rome#WeddinfConsultant#TravelPlanner#AirConcierge
Wedding Charters from San Diego to Henderson Executive Airport.
Big savings of our San Diego to Vegas- Henderson Executive Airport. Roundtrip Charters from $11,000 plus taxes for a Midsize Lear 35A Jet with seating for 4-6 passengers. Please contact our Airport desk at 702-336-7345. Limited availability. For details visit us at: San Diego Charters to the Vegas Strip.